Pranamaya Yoga at Jiva Caf'e & Spa
---
What is yoga?
Yoga is a little word that encompasses a wide and vast series of definitions. This is because in truth, there is no single thing called yoga. The word is an umbrella term that covers many traditions and practices.
Formally, Yoga is one of the six schools of Indian philosophy called darshanas. Yoga is a Sanskrit word that is translated as, 'to yoke' or 'to join' in many traditions in India. However, the first complete philosophical treatise of yoga in written record was Patanjali's Yoga Sutras in the 2nd century BCE, which defines yoga as 'the cessation of the fluctuations of the mind.' Which is um, a bit different. The traditions of Hinduism, Jainism, Sikhism, and Buddhism each have their own yoga traditions.
As a general term, yoga practice means a series of physical and mental purifying exercises meant to lead to a particular outcome, usually affiliated with spiritual realization, awakening, or liberation. However, the byproducts along the way are pretty spectacular too, including a vibrant, clear, healthy mind and body.
Has this answer made your quest to understand yoga easier? Probably not. But it should impress upon you that, if you are new to yoga, a great adventure awaits you. To explore, express, breathe, study, and investigate the nature of yourself. Ultimately, yoga is the process of self-inquiry. YOU are the material you are investigating and there are many yoga tools to do that. So jump in. Smile. Laugh. Explore. Embrace the ride. Come join us. We would love to have you.
---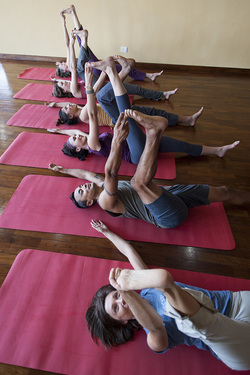 New to Yoga?
Here at Pranamaya we invite you to explore yourself, because that is what yoga was created for. Yoga is a tool to clean, strengthen and invigorate our hearts, bodies, and minds. It is a system, philosophy, psychology, body practice, and a quest. And everyone is invited.
The best position to be in when you decide to begin a yogic journey is the place you inhabit right now. Bring yourself, your fears and your dreams, your strengths and your weaknesses. Yoga does not require you to pretend to be something you are not, nor that you master something before you have begun. Fluency will come with time and practice. Yoga assumes you have not found your destination. Because yoga is a vehicle and a journey: take a ride, we will teach you how to drive.
Our family is diverse and our teachers come from many different yoga traditions. In the beginning you are invited to explore what that means; to get to know the different practices and approaches. From there you might eventually feel drawn to build a deeper, more committed relationship to one particular style. The class descriptions on the website can give you some guidance with choosing classes. Our experienced teachers are also happy to talk to you about your expectations and needs, and advise you on which classes to try.
If you have found in yourself the dedication to show up, you have already made a huge leap. We will guide you through the rest.
Enjoy your journey towards peace, health and happiness!
---
---
Prices
You can just drop-in for individual yoga classes, but to motivate you to join regularly we offer 10 class packages and One-month unlimited packages at reduced class prices. You only get the full benefits of yoga if you join classes at least once a week.
Drop-in class – 700 rupees per person per class
10 classes – 5000 rupees
(valid for 3 months and valid in all studios)
One-month unlimited classes card – 6000 rupees
(in all studios)
---
Yoga class descriptions
Ashtanga Yoga
Ashtanga yoga classes focus on a specific and dynamic sequence of postures, which are linked through movement and breath. The sequence is designed in a very systematic way to help you to begin fully realizing your potential, and to help condition you for greater health, well being and contentment.Ashtanga is an athletic flow combining strength, flexibility and stamina for a complete practice. The practice includes engagement of internal locks and deep breathing which are used to assist the regulation of the flow of energy.
This yoga class is accessible to all yoga practitioners regardless of their level or previous practice, and the classes are modified to the student so that all can participate fully at their own level.
Dynamic Hatha
Dynamic Hatha classes are based strongly on alignment and on encouraging the body to make new imprints, to abandon old behavioral patterns and develop healthier ones. Classes are tailored to the students, around specific themes or working towards a more challenging pose with elements of stretching, relaxing and playing. They aim to build confidence in the students and to motivate them to reach their potential. Even within a group setting individual support is given, with clear verbal instructions and physical adjustments.Classes are designed to encourage each student to develop and deepen their practice, whilst also helping their minds, bodies and energy to restore and replenish. Classes are inclusive and welcoming to all, at every level of practice.
Hatha Yoga
Hatha Yoga teaches you to use your body and breath to restore balance, to nurture consciousness and to increase positive feelings through a healthy, vibrant body and mind. These classes are open for anyone, whether an advanced practitioner or a beginner just starting out. In a nurturing, safe and friendly environment, the teaching incorporates deep relaxation, breath attention and mindful alignment in order to cultivate mind-body flexibility, a sense of balance, and a space of serenity from the outside world.
Depending on the group environment, there will sometimes be challenging and difficult postures and sometimes a very simple and gentle flow. The emphasis is on connecting ourselves with our inner world and the energy body. To realize this, we bring awareness to the breath, pulse, heart beat, chakras, areas of tension, stretching, and any sensations that arises and disappears.
Vinyasa Flow
In Vinyasa Flow we use the breath to move through variations of Surya Namaskar and a series of asanas, practicing with awareness of the connection between breath and body, and flowing dynamically between postures. We cultivate balance, strength, flexibility and openness, both physical and energetic, and finish with seated, supine and inverted postures to promote the relaxation of the nervous system.
The practice will help you feel both relaxed and vitalized, challenges you to experiment with the potential of your body's range, and to explore and open your state of mind.Each week a peak pose is selected and a sequence developed based on the muscles and alignment required to achieve it, to open and prepare the body ready to practice the peak posture. This also enable you to learn about some of the more advanced yoga postures and to have a play with them to build your practice.

Pokhara's Hidden Oasis